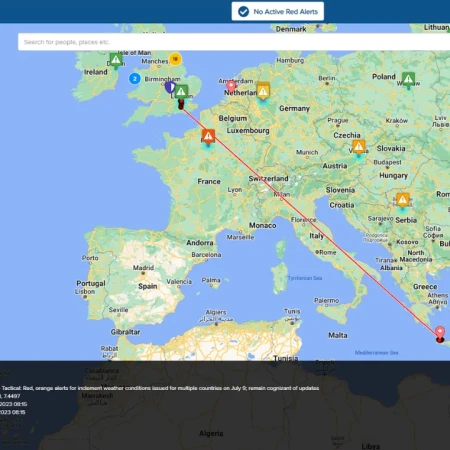 Vismo and Max Security Collaborate
14 August 2023
Jen Brady
Vismo, the global tracking and safety solutions specialist, announces a partnership with Max Security, the security and risk management firm. The collaboration, effective immediately, sees Vismo providing verified risk data, using Max Security's intelligence solutions, to strengthen the wellbeing of customers' staff when the unexpected happens.
The customers will be able to quickly and easily identify when their employees are in, close to or approaching the impact zone of an incident. Seamlessly, Vismo will provide support to the employees via the Mass Notification feature of the company's Locate & Protect App on their phones.
Max Security's intelligence portal app links to the Vismo Secure Portal, allowing security teams to view only risk data that is relevant, and filter alerts by the level of severity, to help them manage risks more effectively, and use Mass Notification where necessary.
Real-Time Tracking
Max Security gives security teams additional real-time insights, tactical monitoring and actionable recommendations that feed directly to field teams, enabling them to provide a quick and appropriate response.
Colin Dale, Director of Global Sales at Vismo, comments, "Our partnership, including Max Security's technology, will strengthen both companies' ability to meet the evolving security needs of businesses, public sector organizations, NGO and individuals wherever they are."
Noam J. Schiller, President, Max Security, says, "With the power of Max Security's intelligence and Vismo's highly optimized location monitoring technology, we are creating a new paradigm in global security and risk management. This collaboration is about more than just merging two services – it's about providing superior duty of care solutions to our clients around the world."
About Max Security
MAX Security Solutions offers a distinct blend of expertise in protection, prevention, and risk management. We pride ourselves on proactive crisis anticipation rather than mere reaction. Our intelligence offerings are actionable, curated to empower your next move, and are flexibly tailored to accommodate your evolving requirements.